Western Province 3rd term test was held on 05th November to 15th November in all schools in Colombo and Gampaha.
Western province has 1,359 schools in Colombo and Gampaha districts.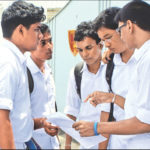 Every year at least 950,000 students educating in the western province. In 2017, according to the report of school census, by the department of census and statics, 965,113 students were studying.
Sinhala Medium Students – 859,982

Tamil Medium Students – 79,891

English Medium Students – 25,240
Every year grade 11 3rd term test was conducted by the department of education in the western province.
You can now download Sinhala. History, Buddhism, Accounting and English papers in PDF format.
Mathematics sri lanka. We are Sri Lanka's first and only mathematics educational website. We are the pioneers in mathematics education sector and we aim to increase the knowledge in mathematics and other subjects too. We do provide Free exam papers, Model papers, Evaluation papers, Tutorials, Educational workshops, Special Classes, jobs and Courses.