Practical Tests 2021/2022 A/L (Re-conduct)
Practical Tests 2021/2022 A/L Re-conducting.
The practical test of the 2021/2022 GCE Advanced level examination was conducted earlier. But some students could not participate in this exam. For that reason, the examination department has decided to conduct these practical tests again. The press release issued by them is given below. Also, you can get a complete detailed idea based on that in this article.
Earlier, a large number of students who could not appear for the practical test had been given application forms. Taking this into consideration, the examination department has taken this decision.
Accordingly, the exams are scheduled to be held from the 19th to the 21st of August. We have listed the locations and times below for your convenience.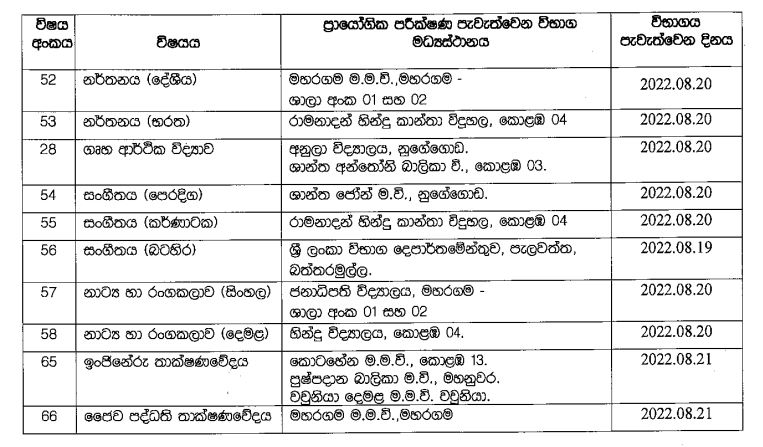 You can see the original full details of the press release issued by the examination department on the following website.
Also, the facility to download the PDF is given below.
PDF Download Press Release – Re-conduct Practical Tests GCE A/L 2021

Which schools have this re-conducted practice test?
This exam will be held in the following schools.
Centaral Collage Maharagama – Maharagama (Halla No 1 & 2)
Ramanadan Hindu Collage – Colombo 04
Anula Vidyalaya – Nugegoda
St.Anthony's Convent – Kollupitiya, Colombo 03
St.john's college – nugegoda
Hindu College – Colombo 04
Kotahena Central Collage – Colombo 13
Pushpadana Balika Vidyalaya – Kandy
Vavuniya Tamil Collage – Vavuniya
Apart from this, the examination department located at Pelawatta Battaramulla is also held.
What are the subjects that are conducted again in this way?
Dancing (Local & Baratha)
Home Science
Music (Oriental, Western, Karnataka)
Drama and Theatre (Sinhala & English Medium)
In addition to the above subjects, tests are also conducted in engineering technology and biotechnology.
How do I get the exam results after the Practical Tests 2021/2022 A/L?
Earlier we have also written a detailed article on how to get A-level results. In that article, we have told you how to get these exam results easily. We have given the link to that article below. Please go through it and read the relevant article.
Use the following phone numbers and fax numbers to get additional details about the above examination.
Address: Commissioner General, Department Of Examination, PO Box 1503, Colombo
Telephone : 0112784208 | 0112784537