2019 G.C.E A/L Examination – Timetable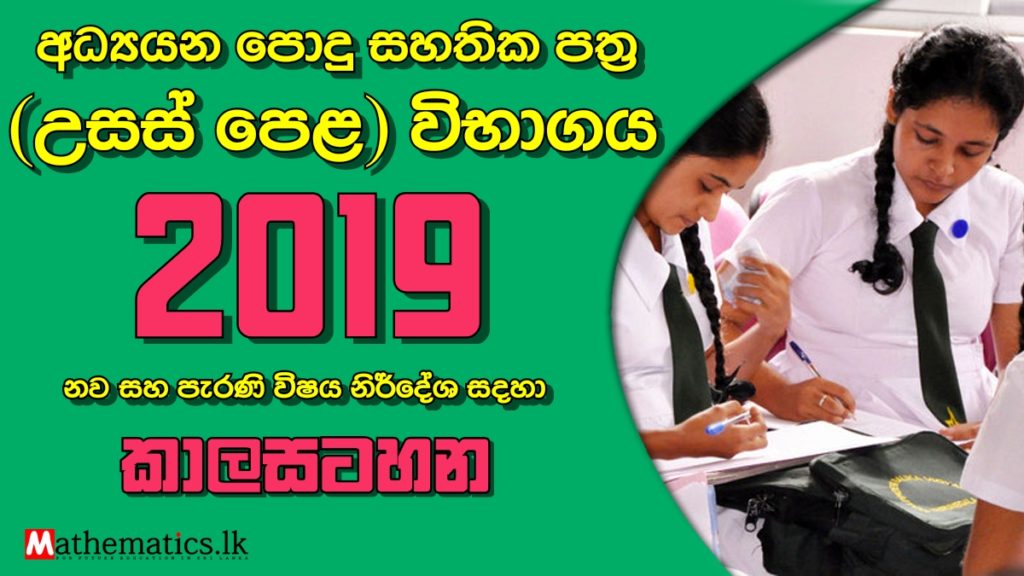 Department of Examination Sri Lanka officially announced the timetable for 2019 G.C.E A/L Examination. Consequently, G.C.E A/L exam will start 5th Monday of August in 2019. And exam will end 31st Saturday of August.
Also, the Department of Examination notifies two different timetables for Old & New syllabus candidates.
At this exam, you can get the questions papers for the following subjects.
Combined Mathematics
Mathematics
Higher Mathematics
Physics
Chemistry
Biology
Economics
Buddhism
Hinduism
Christianity
Islam
Buddhist Civil
Hindu Civilization
Islamic Civilization
Christian Civilization
Greek and Roman Civilization
Logic & Scientific Method
Engineering Technology
BioSystems Technology
Dancing
Oriental Music
Carnatic Music
Western Music
Sinhala
Tamil
German
Art
Business Studies
Civil Technology
Mechanical Technology
Electrical, Electronic and Information Technology
Food Technology
Agriculture Technology
Bio-Resource Technology
Business Statistics
Sanskrit
Political Science
Science for Technology
Drama & Theatre (Sinhala, Tamil & English)
French
Home Economics
Accounting
History of Sri Lanka
History of India
historical of Europe
History of Modern World
Arabic
Malay
Chinese
Russian
Japanese
Information & Communication Technology
Geography
Communication & Media Studies
General English
Common General Test
Timetables for 2019 G.C.E A/L Examination
New Syllabus
Old Syllabus
Also, you can download Advance Level prototype papers. So Please click the link below.
So you can download Advance Level Past Papers. So Please Click the link below.