2020 A/L Results – When does it release? (doenets.lk)
However, a few weeks ago examination Department has announced that the 2020 A/L Results will be released in March or the first weeks of April 2021. Also, by the second week of April, they had not been able to release the exam results. Accordingly, we believe that the results will be released in the last weeks of April.
The 2020 A/L Examination was successfully held during the Corona Epidemic in Sri Lanka. The evaluation of answer scripts in 13 subjects has started on November 25. Thereafter 410 examination evaluation boards will be held in 10 cities of the country such as Anuradhapura, Badulla, and Mahanuwara, the Commissioner of Examinations has stated.
The weekend newspapers published the following comments about the 2020 A / L and 2021 GCE Ordinary Level examinations in their newspapers.
G.C.E. Advanced Level Examination results are expected to be released by the end of April, Education Minister Prof G.L.Peiris said.
`
He was speaking at the cabinet media briefing held today at the Government Information Department.

The results of the 2020 GCE Ordinary Level examination which ended on March 10 are scheduled to be released in June and it has been decided to start the GCE Advanced Level classes by July, the Minister of Education said.

The Minister further said that no decision has been taken yet regarding the holding of this year's scholarship examination in August and that a final decision will be taken soon and it will be announced soon.

Ishara Mudugamuwa @ https://www.dailynews.lk/

https://www.dailynews.lk/2021/03/24/local/244873/al-exam-results-be-released-end-april
You can easily visit the website below to see the 2020 A/L Results.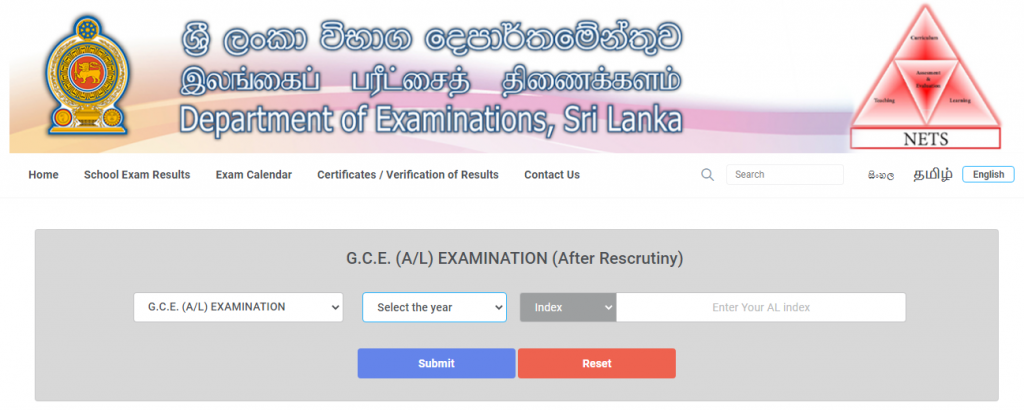 https://www.doenets.lk/examresults
Alternatively you can call the following numbers of the Department of Examinations for details.
+94 11 2786200
+94 11 2784201
+94 11 2785202
+94 11 2784204
+94 11 2786205
+94 11 2784206
+94 11 2784207
Following are the comments posted on the Student Lanka website on the 2020 A / L results.