The 2020 GCE Ordinary Level Examination was held on March 10, 2021. Accordingly, the 2020 O/L results should be released within a few months. More than 24,000 candidates from the Colombo district appeared for the examination. Therefore, in order to start A/L 2022/2023 classes in schools properly, O/L results need to be released soon.
Results (2021 March) Release Date? According to Ministry of Education?
The Ministry of Education and the Department of Examinations have not yet announced the exact date for the release of O/L results. However, in a Cabinet statement, the Minister of Education Hon, G.L. Peiris stated that the GCE Ordinary Level results will be released by June 30.
However, due to the current epidemic situation in the country, there may be a delay in releasing the results. This is due to the fact that the country has imposed travel restrictions and the answer sheet examiners have not been able to perform their duties.

How to check your 2020 O/L results when it released?
You can check the results as soon as they are released through the link below. Enter your index number and you can see the results.
https://www.doenets.lk/ordinary/level/2020/examresults
Alternatively you can check the results through the official website of the Sri Lanka Examinations Department. Visit that website through the link below.
https://www.doenets.lk/department/of/examination/sri/lanka
You can also get your 2020 O / L results by entering your index number through the official government website that publishes exam results. The same procedure should be followed on the website of the Department of Examinations.
https://www.exams.gov.lk/examresults
Use the information below to inquire about your exam results.
Hot Line Number – Department of Examination Sri Lanka
Call – 1911
Other Contact Numbers (Department of Examination Sri Lanka)
+94 11 2786200
+94 11 2784207
+94 11 2784206
+94 11 2786205
+94 11 2784204
+94 11 2785202
+94 11 2784201
Fax Numbers (Department of Examination Sri Lanka)
+94 11 2785220 (General Fax Number – Examination Department)
+94 11 2784422 (School Exams Unit – Examination Department)
+94 11 2784232 (Agency Exams – Department of Exam Sri Lanka)
Can we check our O/L Result using the newly released DOE Mobile Application?
Following is a press release issued by the Department of Examinations. You can now use the mobile app mentioned in it through your phone. Below we have also provided the link you need to download it.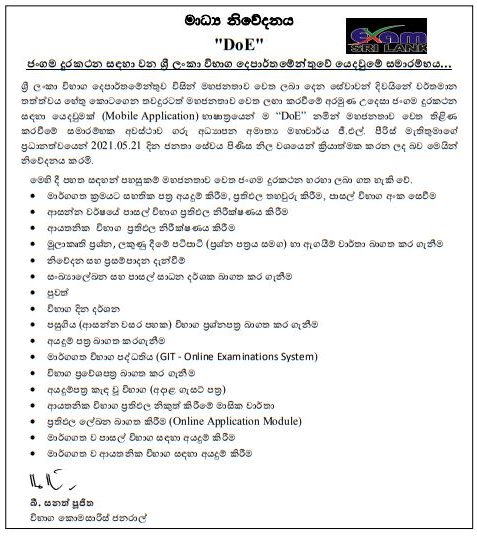 Yes. Now you can also check your results using the newly released Department of examination (DOE) mobile application mention above. First of all, you must download that App to your mobile phone. Therefore you can use the below link to download that doenets.lk Mobile App.
https://play.google.com/store/apps/details?id=lk.dialog.doenets_mobile&hl=en&gl=US
Visit the below article to know about the Examinations Department O/L & A/L Results One-Day Online Service.