Check Your Exam Results Without Using INDEX Number

Forgetting the index number is a problem that many children have when looking at exam results. Here we are going to teach you how to check exam results without index number. The results of many other examinations in Sri Lanka, including three major examinations, will be released through the below websites.
There are also 3 exams where a large number of school children look at the results. More than 300,000 students sit for these three examinations simultaneously. Also, after a few months, they will look up their results on the above websites. Those three exams are,
Grade 05 Scholarship Exam Results
Ordinary Level Exam Results
Advanced Level Examination Results
What is the O/L, A/L & Grade 05 exam index number?
This is a must-know if you are preparing for any of the exams like the ones we mentioned above. Because your name is not often used at the exam. Instead, you should write the index number on your answer sheet. This number will be given to you by the Examinations Department.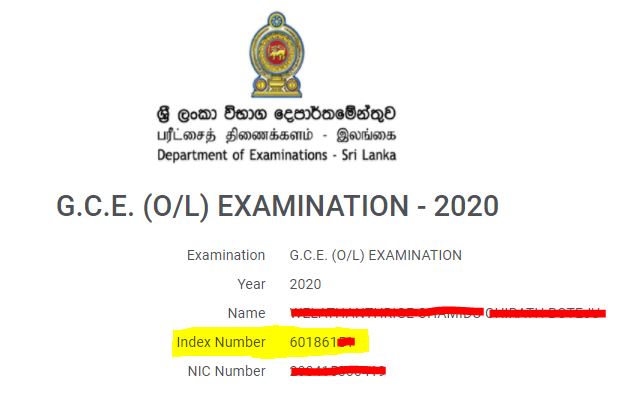 How to find Lost / Forgot exam number?
Let us find out what you should do if your index number is lost or forgotten. If so, it's important to know which type exam candidate you are.
If you are a school applicant,
Here we will show you how to find your exam number if you are appearing as a school applicant for the exam. Then you can first check the enrollment in your school. To do this, meet the teacher in charge of your class or section of the school. Or meet the person in charge of the school exam application paper.
Usually all the details of a school applicant are recorded in the school. As a result, students are less likely to have problems with their exam results. But if the index number is missing, you can check it at your school. Exam results cannot be viewed online, but your results will be sent to the school by the Department of Examinations.
If you are a privet candidate,
If you are appearing for the exam as a private candidate, let us now find out how to get your exam number. Make it a habit to always write down your exam index number somewhere you remember. But if you do not, you will have problems viewing your exams online. However, now the Department of Examinations (www.doenets.lk) has given you the opportunity to view the results of the examination using your "National Identity Card number".
However, if you want to check your exam results without using the INDEX number, you should contact the Examinations Department. Contact them at the phone numbers we give you below.
What is the best way to view results without an index number?
According to the Department of Examinations, you can also use the following methods.

If you do not have an O/L, A/L or Scholarship examination number, give your National Identity Card number to check the results.
If you have been writing the exam for a long time, you can come to the examination department and get the results.
Or you can call the Examinations Department hotline number and provide your information and get the exam number or results.
Can we check our exam Result using the newly released DOE Mobile Application?
Following is a press release issued by the Department of Examinations. You can now use the mobile app mentioned in it through your phone. Below we have also provided the link you need to download it.
DOE Android App for mobile –
https://play.google.com/store/apps/details?id=lk.dialog.doenets_mobile&hl=en&gl=US
How to get this "Examination Certificate Online" service?
You can get this service in Sinhala and Tamil medium. To do so, complete the application form below. Then refer the completed application to the link provided by the Department of Examinations. We also provide that link below.
Remember, these services are only available for the O/L and A/L exam results online certificates.