2021 A/L Time Table & GCE A/L Exam Date | doenets.lk
Recently, the Department of Examinations published the 2021 A/L Time Table on their website. They say that the GCE Advanced Level examination was postponed due to the Covid epidemic but this time the examination will be held on the relevant day.
The GCE Advanced Level Examination will be conducted in Sinhala, English and Tamil. Students will also appear for the examinations in Combined Mathematics, Biology, Commerce, Art and Technology streams.
And as every year, a large number of students face the 2021 A/L exam. Also, the special feature of this year is that the students have been given the opportunity to register for the examination under the online system. This made it easier for external candidates to apply for this year's examination.
When does the 2021 A/L exam start?
According to the 2021 A/L Time Table, this year's GCE Advanced Level examination will start on Monday 07th February 2022. Also, the subject of Combined Mathematics will be conducted first.
When will the 2021 GCE A/L examination end?
This time the GCE Advanced Level examination will be held in 22 days. Also, the last date for the examination is Saturday, March 05, 2022. Also, all subjects like General Knowledge, General English will be held during these 22 days.
2021 A/L Time Table Download .PDF File Form www.doenets.lk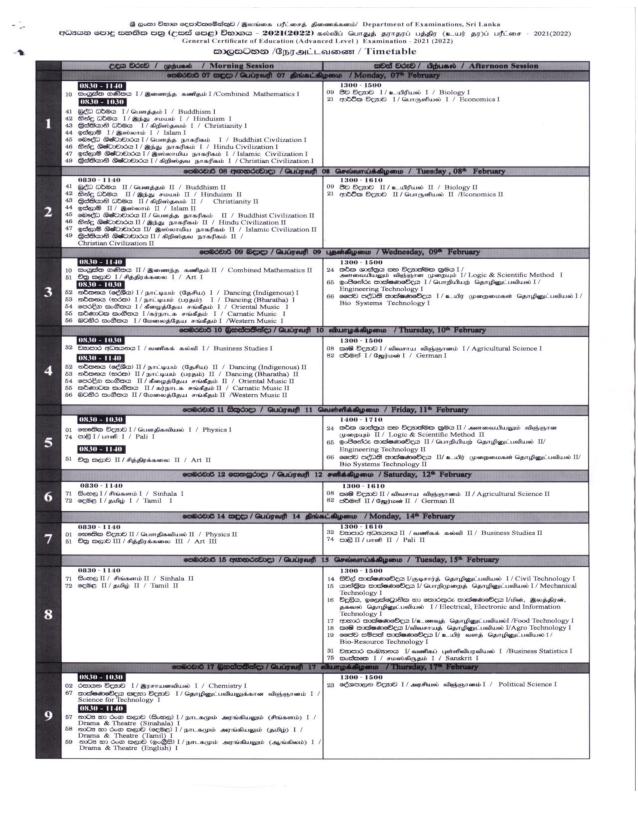 Download New GCE Advanced Level Examination Time Table – 2021 (2022 February)
When was the last day to apply for the A/L exam?
This date was originally scheduled for 10th November 2021. But the Examinations Department postponed it till November 20 for the convenience of the candidates.
Below is the press release issued in this regard. This time the opportunity was given to apply online. Also, the online form had been provided on the official website of the Department of Examinations. Before the last date, you could apply for the online through the following web links.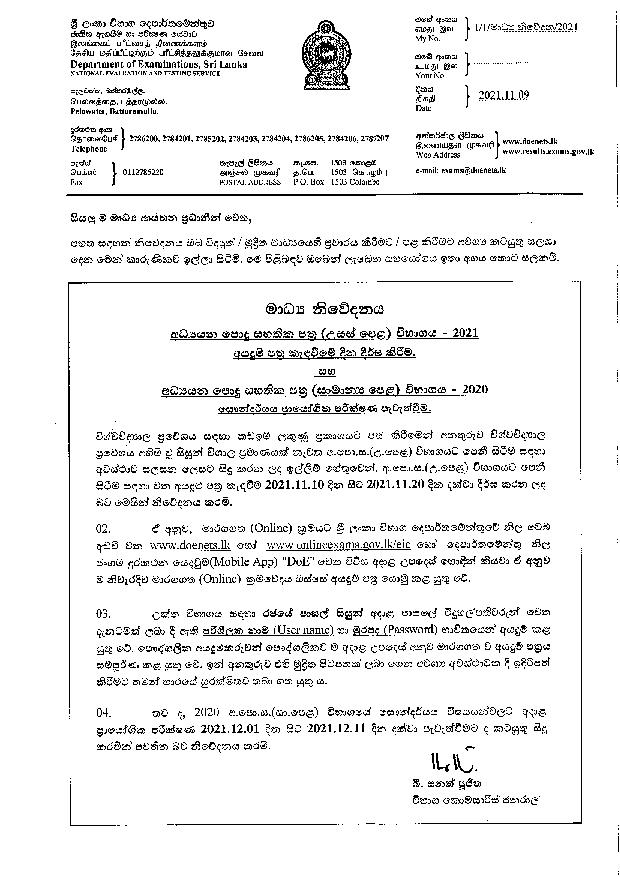 How To Get More Information About The 2021 A/L Exam and Time Table?
Use the information below to inquire to get more information about the 2021 A/L exam and timetable.
Hot Line Number – Department of Examination Sri Lanka
Call – 1911
Other Contact Numbers (Department of Examination Sri Lanka)
+94 11 2786200
+94 11 2784207
+94 11 2784206
+94 11 2786205
+94 11 2784204
+94 11 2785202
+94 11 2784201
Fax Numbers (Department of Examination Sri Lanka)
+94 11 2785220 (General Fax Number – Examination Department)
+94 11 2784422 (School Exams Unit – Examination Department)
+94 11 2784232 (Agency Exams – Department of Exam Sri Lanka)