2017 O/L Science Paper | Sinhala Medium
Now you can download the 2017 O/L Science Paper. Also in this way you can get Sinhala Medium Science question papers from our website. This question paper is a new syllabus question paper prepared according to the prototype question paper.
Past exam papers will be very important for you in learning a subject like science. You can also get science model papers and past question papers from our website.
Structure of Ordinary Level Science Paper
Time : Four hours (extra 10 minutes for reading)
Total marks : 100 Marks
Number of question papers : There are two parts of this paper (Part i & ii)
Types of questions :

Paper i (Paper Part 01)

There are 40 short questions. (MCQ Questions)
There are 4 possible answers to that short question.
The question paper is made up of all the lessons in the syllabus.

Paper ii (Paper Part 02)

The second question paper consists of two parts as A and B.
Part A consists of 4 structured essay questions.
Part B consists of 5 essay questions. Only 3 questions need to be answered.
Questions are asked in all three sections: Biology, Chemistry, and Physics.
Download Sinhala Medium 2017 O/L Science Past Paper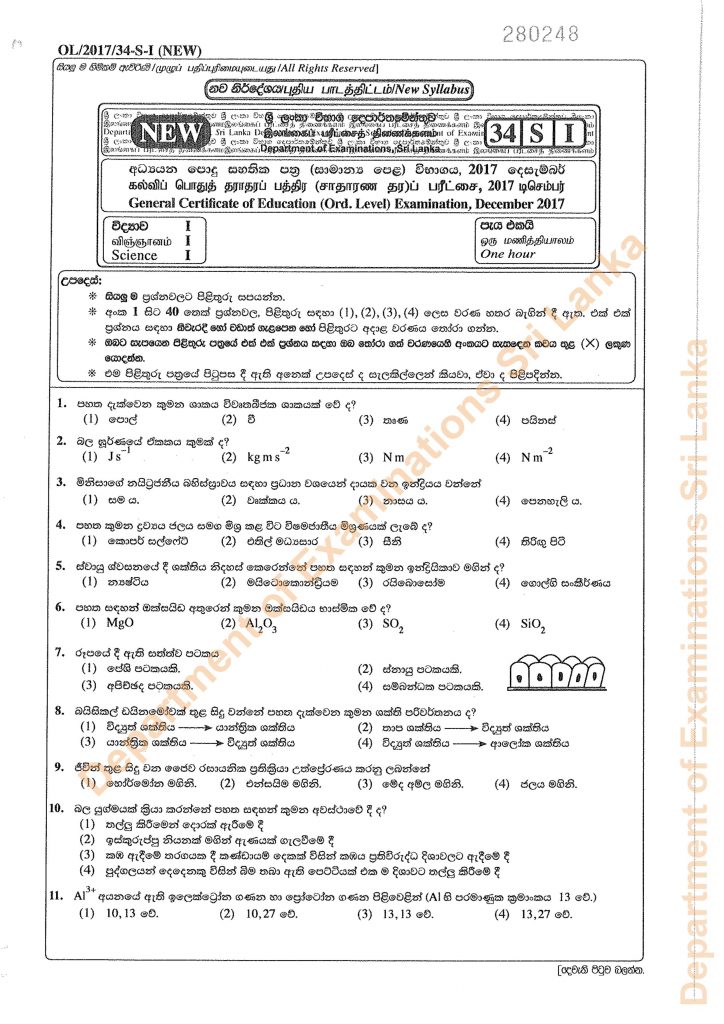 Download 2017 GCE Ordinary Level Sinhala Medium Science Past Paper
In addition, you can download Sinhala medium O/L question papers. We have also provided tutorials, diagrams, and notes for the exam on the website. You can also get them by reading other articles.
Also, some of the question papers and tutorials you are looking for may not be published on our website. Give us such tutorials you have. It will also be of great value to other children who receive our services. We will publish those articles on our website along with your advertisement.