GCE O/L 2022(2023) Time Table & Exam Date
The exam department has released the O/L 2022(2023) Time Table. Thus the 2022(2023) O/L examination will start on Monday 29th May and end on Thursday 9th June.
As in the previous years, this year also the subject that starts first is the subject of religion like Buddhism/Catholicism and Islam. This exam TimeTable has been prepared to conduct science subject on 05th day and mathematics subject on 07th day.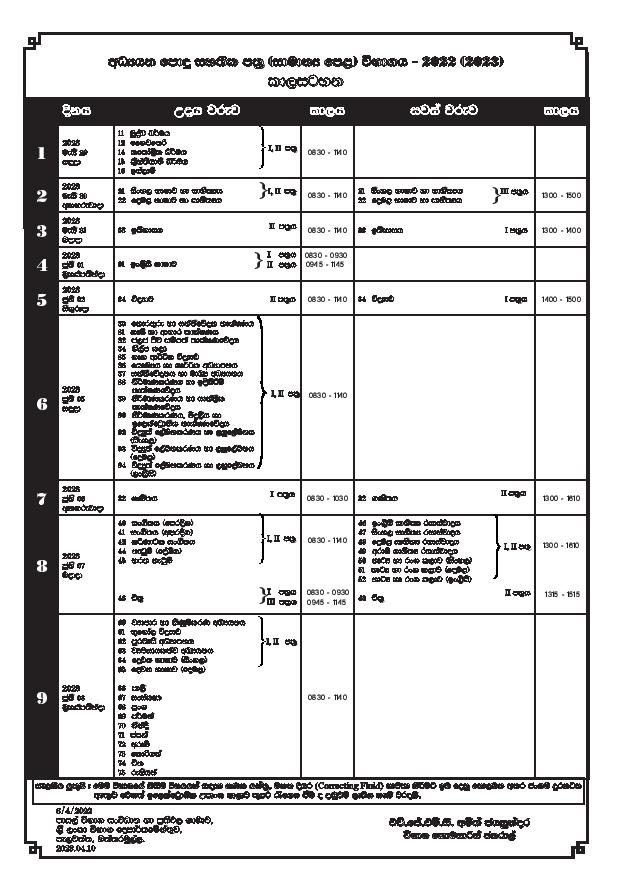 How will the 2022/2023 O/L examination be held?
Generally, the GCE O/L examination is held continuously for a period of 09 days. Usually, one day is given in addition to the subject of mathematics. Accordingly, the subject of mathematics is held on a Monday and the preceding Sunday is additionally given as a holiday. According to the O/L 2022(2023) Time Table, arrangements have been made to conduct the examination in the above manner as in the previous years.
Between 300,000 and 500,000 candidates appear for the O/L exam every year. The O/L exam will be held in many examination centers across the country. Also, 46 subjects are held for the GCE O/L examination. In these subjects, the examination will be held for 06 days under the main subjects and 03 days as sub-sections.
Can the 2022 O/L exam date change again?
Currently, the examination department and the dates for the 2022 O/L examination have been fixed. Even now the problem is the question paper marking of the 2022 A/L exam. Some people say that if this problem continues in this advanced level exam, the O/L exam will have to be postponed.
But if the 2022 O/L children have to postpone the exam like this, it will be a big inconvenience. Because those children have been waiting for the exam for many months now. Postponing an exam like this is a decision that will severely affect their future. Because of this, we hope that the education authorities will provide a fair solution to the O/L students this time.
In this way, the following website links, email addresses, and phone numbers will help you to get all the changes and details on the 2022/2023 O/L exam date.
Official Website – Department of Examination Sri Lanka
Hot Line Number – Department of Examination Sri Lanka
Other Contact Numbers (Department of Examination Sri Lanka)
+94 11 2785202
+94 11 2784201